These constraints arise frequently. Every relation arising from a relationship set has referential integrity constraints.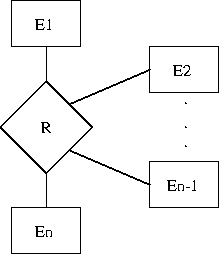 Figure 6.1: An n-ary relationship set

Figure 6.1 shows an n-ary relationship set R relating entity sets .
Let denote the primary key of .
The attributes of the relation scheme for relationship set R include .
Each in the scheme for R is a foreign key that leads to a referential integrity constraint.