DeformIt 2.0
Image Data Augmentation Tool: Simulate novel images with ground truth segmentations from a single image-segmentation pair, now with support for scalar, vector and tensor-valued 2D and 3D images.
To download the software please complete the password request form below and the username and password login information will be emailed to you. If you have the login information,

download code here.

DeformIt2.0 by Brian Booth and Ghassan Hamarneh is licensed under a Creative Commons Attribution-NonCommercial 3.0 Unported License.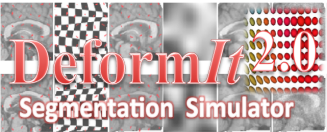 Note 1: For the old version of DeformIt please visit this page.
Note 2: Download this file for sample code and modifications to simplify running DeformIt on 2D colour images.

References:
Brian Booth and Ghassan Hamarneh. DTI-DeformIt: Generating Ground-Truth Validation Data for Diffusion Tensor Image. In IEEE International Symposium on Biomedical Imaging (IEEE ISBI), 2014.


Ghassan Hamarneh, Preet Jassi, and Lisa Tang. Simulation of Ground-Truth Validation Data via Physically- and Statistically-based Warps. In Lecture Notes in Computer Science, Medical Image Computing and Computer-Assisted Intervention (MICCAI), volume 5241, pages 459-467, 2008.