CudaFitKMdPET
CUDA code for Fast GPU Fitting of Kinetic Models for Dynamic PET
To download the software please complete the password request form below and the username and password login information will be emailed to you. If you have the login information,

download code here.

CudaFitKMdPET by Ben Smith is licensed under a Creative Commons Attribution-NonCommercial 3.0 Unported License.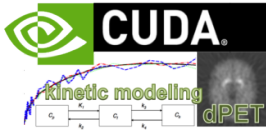 Reference: Ben Smith, Ghassan Hamarneh, and Ahmed Saad. Fast GPU Fitting of Kinetic Models for Dynamic PET. In International Workshop on High-Performance Medical Image Computing for Image-Assisted Clinical Intervention and Decision-Making (MICCAI HP), pages 1-10, 2010.